/

Move to Östersund Municipality
Move to Östersund Municipality
More time to live. In Östersund you will discover that everything is close at hand. It means that you can have more time for your own interests and for family and friends. You can cycle or walk, in a few minutes you are at school, preschool – or out in the countryside.
When you live here you don't need to go on holiday to experience genuine outdoor life or enjoy the mountain world.
Much in Östersund revolves around the vibrant outdoor life, all year round. But there is also a warm interest here in cultural life and clubs and associations.
Moreover, Östersund is a city in development with a great belief in the future and new districts emerging.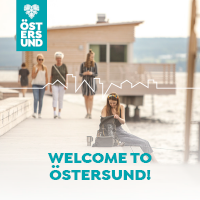 Jobs in Östersund Municipality
Would you like to work for Östersund Municipality? We are constantly looking for new employees within a range of occupations.
See all vacant jobs at Östersund Municipality (in Swedish)
Help to find a job
Arbetsförmedlingen (the Swedish Public Employment Agency) is the authority responsible for helping you to find a job.
Visit the Arbetsförmedlingen's website (available in several languages)
Finding housing in Östersund
There are numerous options available in Östersund Municipality –, in the heart of the city with views of mountains and the lake, or perhaps the other way round, live in the countryside with a view over the city. You can rent, buy or build your dream house.
Several new housing areas are emerging in Östersund and there are also several places in the municipality which offer more rural housing.
If you would like to rent housing, you can choose between a number of property owners. Here is a list of the largest.
Find housing in other ways
There are various housing services online which can be of assistance if you want to find housing in Östersund Municipality. Here are some of them:
There are also, for example, groups on Facebook which many people use to rent out or find housing in Östersund Municipality and Jämtland. One such group is "Kakas bostadsförmedling i Jämtland!".
For those who have come here as a refugee
If you have come to Sweden as a refugee and, after obtaining a residence permit, have been located in Östersund or have chosen to reside in Östersund yourself, you receive assistance from the Integration Service during your initial time here. The Integration Service is located on Kyrkgatan 49 in central Östersund and is open Mondays, Wednesdays and Fridays, 10:00 -14:30.
The Integration Service is a part of Östersund Municipality and is tasked with providing new arrivals with satisfactory conditions for integration. It concerns promoting understanding of, and participation in, Swedish society. Together with other actors, the Integration Service also works to enhance your job and study prospects, and to enable you to support yourself.
Our long-term objective of is that you will flourish in the municipality and will want to remain here with us.
The Integration Service's remit in brief
Those who have obtained a residence permit and been located in Östersund Municipality receive help in obtaining their first home.
Practical support in relation to reception and setting up home
We provide support, service and information for newly arrived refugees in Östersund.
The aim of social orientation is to provide a basic understanding of Swedish society and we offer this in your native language or another language over which you have a good command.
Initiatives to promote integration
Some examples:
Ladies Villa – a collaboration with the Red Cross which offers an open meeting place for foreign-born women, including their children, with language training, information and different types of activities.
Was this information helpful?
Sidan uppdaterad 2021-09-23