/

Voices from participants
Thanks to the UCCN network, there is the opportunity to participate in various activities that offer exciting and educational experiences. Here some of the people who have participated in activities since the award in 2010 tell us about their experiences.
Lena took part in food festival in Dénia, Spain – broadened her network
Lena Flaten runs Flammans skafferi restaurant in the ski resort of Storlien. She has always been interested in food from other cultures and loves inviting different guest chefs to her own kitchen. When she was given the chance to go to UNESCO's DNA festival in Dénia, Spain, she didn't hesitate for a second.
"I got incredibly much out of being there. We were several chefs from different continents who helped with the preparations ahead of a show-cooking event on stage. People from completely different food cultures met in that kitchen, and we'd probably never otherwise have met. It gave me a whole new network and I'm still in touch with many of them."
Lena had taken along ingredients and products that she felt represented the gastronomy of Jämtland. For instance, she offered up kokkaffe (a coffee made by boiling coffee grounds in a coffee pot or saucepan) with dried meat. She also baked thin (unleavened) bread served with a spread made of messmör (soft whey cheese) and garden angelica, along with smoked elk heart, wild mushrooms and cowberries picked in Storlien. The guests were also treated to different artisan cheeses from the county, accompanied by cloudberries and more.
"I saw the trip as an opportunity to show the world how we work with sustainability, local ingredients and care for animals and nature in Jämtland – and it was also a fantastic opportunity for me personally to expand my network."
Since the trip, Lena has been visited by several of the chefs she met at the festival, as well as others that had heard of her and Jämtland's gastronomy. They've discussed similarities and differences in different food cultures and created exciting menus together using the best of both worlds.
Manne wants to create a Jämtland Gastronomy Visitor Center
Manne Mosten runs Norra Station in Östersund and also arranges different food and cultural experiences in cooperation with local food artisans and restaurateurs. He believes that being a UNESCO Creative City of Gastronomy is a huge asset for Östersund and Jämtland, and has himself participated in several of the trips arranged by the network, including to China and Scotland.
"I am not a producer, but I'm nevertheless very interested in food production, cultural history and the strong identity they create for a region. Östersund and Jämtland have enormous potential to enhance our food brand in a way that is sustainable and enjoyable, and UNESCO's network is a fantastic source of knowledge that we should make the most of."
During the trip to Shunde in China in 2019 Manne visited their Gastronomy Visitor Center. The center presents China's food culture, from thousands of years back in time until today, in all sorts of imaginative ways. For instance, they have a studio kitchen, interactive experiences, lectures and a library with cook books and other food-related literature. Even before the trip Manne had had the idea to create a Gastronomy Visitor Center in Östersund, and what he saw in Shunde only convinced him further.
"Many of the tourists that come here to Jämtland only visit Östersund. They miss everything there is to see in other parts of the county. If we can gather all the information in one place and present both the diversity of our food culture and the people who work with food, we can inspire visitors and the local residents to visit and get a taste of more of our county. My idea would be to collate all written materials, photographs and films, and then all the organisations and municipalities that work with these areas should be able to showcase their current projects."
Another trip that Manne was part of was a visit to Scotland. That's when it became apparent to him just how far we've actually come with sustainability in Sweden and Jämtland, but that Scotland on the other hand has made much more progress with packaging the food culture offering.
"We can learn plenty from them. Many tourists come here for the outdoor recreation, but more and more of them also want to try locally produced food. If we can find more ways to package outdoor recreation with a sustainable food experience, prepared with local ingredients and by local food artisans, we would have a lot to gain from that."
The trips and events arranged through UNESCO inspire Manne and give him the energy to keep working with what he believes in.
"When I meet other members of the network, I realise that we "Jämtar" are really good at the whole food and sustainability thing – it's a real confidence-booster.
Gastronomic education at MIUN thanks to collaboration with Parma, Italy
Wilhelm Skoglund is a teacher at Mid Sweden University. One of the subjects he teaches is Societal Entrepreneurship. He is also one of the enthusiasts who has been around since the very beginning, when Östersund and Region Jämtland Härjedalen applied to become a UNESCO Creative City of Gastronomy.
When the application was accepted, Wille and his colleagues created a research platform along with the other member cities in the network. This resulted in a research conference in 2016 that was arranged in conjunction with Östersund hosting the UCCN's annual general meeting. Around 100 international delegates participated in the research conference and many new contacts were made.
"We met some representatives from Italy's University of Parma, during the conference. We discussed that there should be some sort of university education in sustainable gastronomy and that it could be a joint program for the cities in the network. Several of us continued to work with the education plans and the universities of Bergen and Alicante also subsequently came on board.
It took a few years to bring the idea to fruition, but in 2020 the universities were finally able to offer the one-year Master program, Food City Design, for the first time. It is a broad program covering everything from nutrition and dietetics to cultivation and marketing, with a sustainable perspective to it all. The objective is for the students to be able to work with food, purchasing, supply and sustainable production in the public sector or in large companies – and generate greater awareness in wider society.
"We've run the program twice now. Around 20 students have been admitted both years and 5-6 of these have been from Sweden. It's an incredibly interesting mix of people, with completely different backgrounds. Chefs, tourism experts, hotel managers, financial people... Our idea was that the teaching would take place in Östersund and in Parma for one semester each, but the pandemic put a stop to that and most of the program became digital."
Martin got a job at Eldrimner after the program
One of the people who has studied Food City Design is Martin Jaller. He already had a Bachelor's degree in Experience production, he is a qualified chef and he has also worked within the event, TV and hotel sectors.
"I wanted a way to combine my academic background, my professional experience and my chef training – so that I could work more strategically in the long run. The main thing I'll take away from the course is the cultural exchanges, how different countries view food, and the advanced knowledge I gained of Agenda 2030. I realised that creativity and innovation are also required within food production for us to achieve the global goals.
Martin did a work placement at Elrimner while studying the program. He now has a permanent job there and works with education and advising companies.
Wille and his colleagues have now paused the program to reassess it. Their goal is to create a two-year research preparatory program with more depth and breadth, which will hopefully attract more students.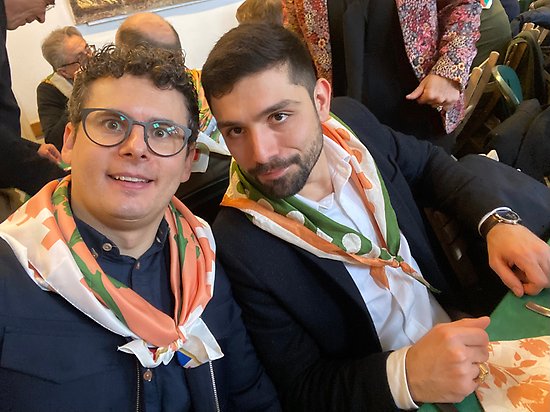 Sav put the UNESCO logo on it bottle – saw greater interest abroad
Peter Mosten is the founder of the Norrland wine company, Sav. He is also one of the food artisans in the region who has chosen to use the UNESCO Creative City of Gastronomy logo in the company's marketing.
"When we put the UNESCO logo on our non-alcoholic Sav, Glöd®, we noticed an increase in interest in the product, mainly abroad. It works in our marketing as both a seal of quality and a door-opener to new markets. Scandinavian artisan food and food preparation already have a good reputation internationally. This seal of quality that our region has demonstrates real high class."
Peter has noticed that people are very curious about the Creative City of Gastronomy award and what it actually means. It opens doors, prompts questions and gives us excellent opportunities to tell the world about how we work with artisan food and with sustainable and fair production.
"The fact that Östersund and Jämtland have been appointed a Creative City of Gastronomy and are part of UNESCO's gastronomy network is really good for many reasons. I hope and believe that the award can lead to the region's artisan food being given an even more prominent position, for example during the major international events that are held in the region. Food and gastronomy are an important component of our culture and our efforts regarding sustainable hosting and high-quality tourism.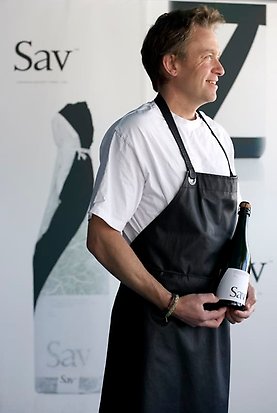 Fabienne started the food festival to highlight Östersund and Jämtland as a gastronomic region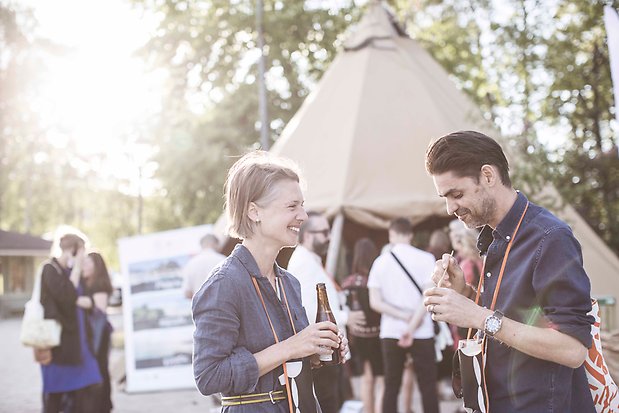 Fabienne Theiler moved from Switzerland to Sweden in 2015 to try out life in northern Sweden. She got a job as a project manager at Torsta where she would work with gastronomy and food tourism. When she arrived, she wasn't aware that Östersund and Jämtland were a UNESCO City of Gastronomy, but as soon as she found out, she wanted to help communicate the brand and spread knowledge about our Jämtland artisan food.
"I felt that the award was mostly just a title and that all the artisan food in the region was invisible. So much was missing, from fine restaurants and events to signs about local food artisans along the roads across the county. What I saw didn't reflect that we were a "creative region". That was when Fia Gulliksson and I decided that we would start a food festival – because a city that's praised for its gastronomy simply must have its own festival!"
And in 2017, the first ever EatArt festival was held in Östersund. The purpose of the event was to elevate, celebrate and highlight the city's food culture. Fabienne wanted to show off the food artisans, share knowledge and also connect the cultural sector with food.
"We invited peers from other cities and continents over the five years that we arranged the festival. We had fusion-cooking with guest chefs and local chefs, and generated a fantastic amount of knowledge exchange. We are very strong at producing and preparing locally grown products in our county, and we got the chance to demonstrate that and teach others."
In 2022 Fabienne also participated in a food festival in Spain. She took a female baker and a female chef with her to show that our region has strong women in a sector that is often male-dominated.
"We should be proud that we are a Creative City of Gastronomy. By participating in UNESCO's events and inviting people from the network to visit us, we can collectively strengthen our brand as a gastronomic region."
Odensala's special educational needs school received visitors from Spain – now eager to get out into the world themselves
In spring 2021, the Raquel Paya school in Dénia, Spain contacted the municipality of Östersund with a request. They wanted to make contact with other schools for functionally challenged students, the equivalent to a special educational needs (SEN) school, and therefore sought help from UNESCO's gastronomy network. The municipality contacted Marjut Svanström, the headteacher of Odensala's SEN high school and asked if she could receive a study-visit delegation from the Spanish school.
"The headteacher and two teachers from Raquel Paya school visited us for a week. Their main goal was to find a suitable gastronomic city to which their students could come for a week's work placement once a year, and they also wanted to expand their network for other types of knowledge and experience exchange.
During their trip, the visitors and Marjut and her colleagues at Odensala school struck up a great relationship – so good that their preference is to send their students to do their placement right there, in the school's kitchen. Time will tell whether that will be the case, but Marjut is nothing but positive to the idea. Meeting the Spanish delegation sparked all sorts of thoughts and ideas for Marjut. Just imagine if Odensala school could take its students on a field trip and work placement abroad.
"When Raquel Paya described how proactive they are with international exchanges in their education activities, I was really inspired. Thanks to the relationship between our schools, it actually feels like we can offer our students the opportunity to do a placement abroad."
International experience would give the work placement an extra dimension helping the students to grow tremendously. It would also enhance professional development of the school staff.
"Now that we've established contact it will be much easier to turn our ideas into a reality. The first step might be to do a field trip to Spain and the next step to actually offer the work placement. It's great that the UNESCO Creative City of Gastronomy award has put Östersund on the map, and that it enables such fantastic opportunities as these."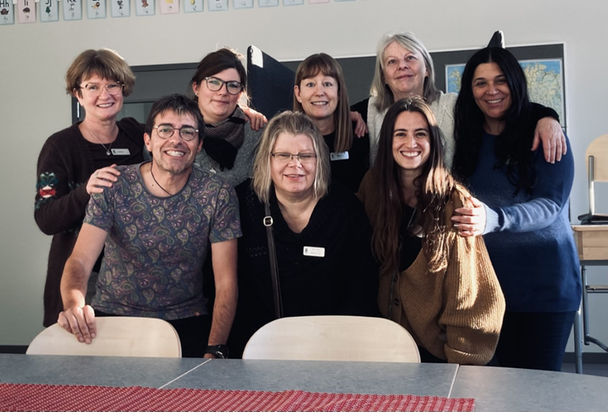 Sidan uppdaterad 2023-05-23